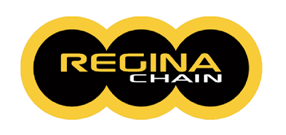 ALWAYS COMMITTED TO CONTINUOUS INNOVATION AND EXCELLENCE.
Regina, a 100 years tradition on development a manufacturing of premium solutions for power transmission, conveying and special applications. Since 1919 we are at the forefront of technology, always committed on continuous innovation and excellence across all our operations. Today we proudly serve the leaders of each industry in which we operate and support our global customers at international level.
Stainless steel and plastic chains.
Plastic modular belts.
Gripper chains.
Machined and molded sprockets.
Magnetic, TAB and Bevel curves, both standard and custom-made.
Lubricated and standard wear strips.
Return rollers, side guides and other popular components.